Heather Hill Hospital and Health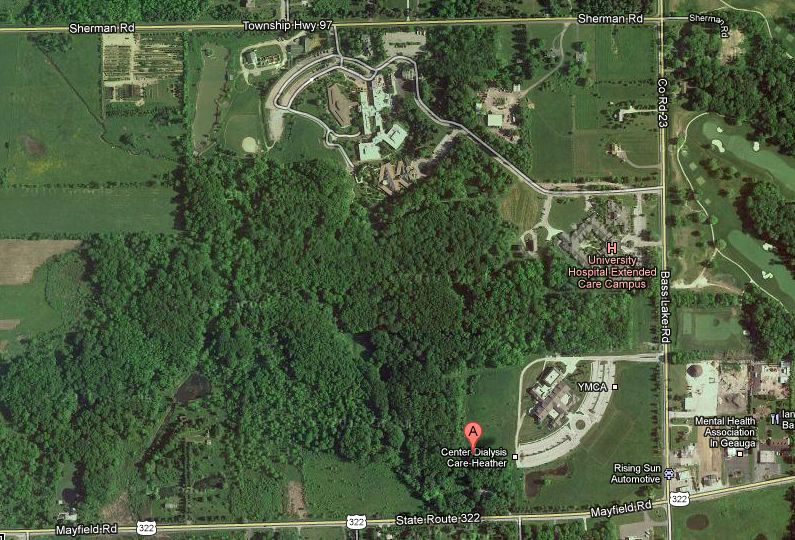 Location submitted by:
sdonley
on 05/08/2012
DBA Approved: Y
PANICd#: 1079
UHHS Heather Hill was founded in 1939 by a Cleveland social worker, Mabel Woodruff. The original 150-acre estate included 60 acres of timber, five natural springs, several homes, a carriage house, granery and barn.
12340 Bass Lake Rd
Chardon , OH 44024
Phone: 440-285-4040
Open to the public: Unknown
Lat: 41.5301361
Lon: -81.2208176
Database Summary:
Demographic Rank: 5
History: 1
Stories: 0
Claims: 2
Evidence: 0
Resources: 1
Retrievals: 7287
Vistor Rating: 3.5
Votes: 2
History
History information is some background and history about the location. This is meant to be a basic summary. Below the history records you will find sources in which you can click on to find out more information. There may be multiple history records per location.
---
UHHS Heather Hill was founded in 1939 by a Cleveland social worker, Mabel Woodruff. The original 150-acre estate included 60 acres of timber, five natural springs, several homes, a carriage house, granery and barn. The four wooden buildings on the Heather Hill campus are all part of the original estate. Today, these buildings include Christopher House for overnight visitors, an administrative office building, an education training center and a private residence.
PhotoOver the years, Heather Hill has expanded to meet the needs of Greater Cleveland's frail elderly and disabled. Today Heather Hill is one of the largest employers in Geauga County, Ohio, with more than 500 employees. Heather Hill's bed capacity stands at 250. Heather Hill's multi-level system of services includes the Specialty Hospital (LTACH), Short-Term Rehabilitation, Extended Care, the Corinne Dolan Center for Memory and Aging, The Liberty (Assisted Living), and Outpatient Rehabilitation. The facility is non-profit and non-sectarian and operated by a board of trustees. Heather Hill is recognized throughout the world for its state-of-the-art Alzheimer services.
The Corinne Dolan Center for Memory and Aging serves persons in the early and middle stages of this devastating illness through day care, short-term overnight care and residential services. It was designed by architect Stephen Nemtin of the Frank Lloyd Wright Foundation to maximize independence and promote a high quality of life. It has drawn more than 8,000 visitors from around the world since its opening in 1989. PhotoA Special Care Center for persons in the later stages of Alzheimer's disease and other dementias opened on the Heather Hill campus in 1993.
It provides around-the-clock medical care and specialized programming that builds upon each individual's unique abilities. Heather Hill's rehabilitation programming serves adults and adolescents recovering from head injury, stroke, spinal cord injury, amputation, orthopedic surgery, neuromuscular disease and other major illnesses. The Specialty Hospital serves the medically complex patient who would otherwise remain in the acute care setting. Short-term rehabilitation care provides outcome oriented medical and rehabilitative care for persons who are too frail to return home following acute hospitalization but whose condition no longer warrants the resources of an acute hospital. Programs may be continued or initiated on an outpatient basis. UHHS Heather Hill serves as a teaching facility and recently opened an on-campus residence for student interns. The facility maintains working relationships with teaching hospitals and universities in the United States and Great Britain.
Added by: sdonley on 05/08/2012 DB#:97
Source(s):
http://www.superpages.com/bp/Chardon-OH/University...

---
Stories
Stories are just that. Stories and personal accounts that have been reported about the location.
---
No Stories Yet!
Paranormal Claims
Here are the paranormal claims for this location. These have been found through Internet research, reports from members, or reports from personal interviews. To add a claim, please contact PANICd.com, and we will review and add your information.
---
| | | | |
| --- | --- | --- | --- |
| Claim # | Added | Added By | Claim |
| 1395 | 05/08/2012 | sdonley | Area C of Chardon's Heather Hill Hospital is haunted by the "knicker boy," a little boy in old-fashioned knickers who runs around and sometimes has conversations with hospital workers. |
| 1396 | 05/08/2012 | sdonley | A hospital employee who I heard from tells me that the old parts of the hospital, including sections E, F, and D, are particularly haunted, and that she occasionally hears her name being called when alone in these sections. She also mentions a nauseating smell which sometimes appears out of nowhere when she's there. Interesting stuff. |
Paranormal Evidence
Paranormal evidence is based on claims that have been reported for this location. There can be several types of evidence; however, we have grouped them based on media type for better organization. Here you will find evidence that are logs, audio, video, or photographic.
To add evidence for a claim, you must submit it to PANICd.com for approval to be entered into the database.
---
No Evidence Reported Yet!
Additional Resources
This is a collection of Internet resources for this location. This section will house links to other websites that contain information related to history, claims, investigations, or even the location's website.
---
Forgotten USA
Added: 05/08/2012 By: sdonley
Page for the Heather Hill Location on Forgotten USA.