Sweetwater Plantation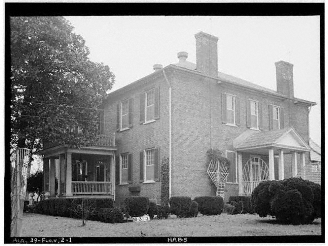 Location submitted by:
sdonley
on 02/05/2011
DBA Approved: Y
Larger Map
PANICd#: 1066
Sweetwater Plantation once covered 3800 acres on NW Alabama. It gets its name from the creek that the Indians called Sweetwater.
1 Sweetwater Avenue
Florence , AL 35630
Open to the public: Unknown
Lat: 34.8169506
Lon: -87.6510227
Database Summary:
Demographic Rank: 4
History: 2
Stories: 1
Claims: 3
Evidence: 0
Resources: 0
Retrievals: 7815
Vistor Rating: 3.0
Votes: 6
History
History information is some background and history about the location. This is meant to be a basic summary. Below the history records you will find sources in which you can click on to find out more information. There may be multiple history records per location.
---
Sweetwater Plantation once covered 3800 acres on NW Alabama. It gets its name from the creek that the Indians called Sweetwater. The creek which borders the south property line eventually empties into the Tennessee River. Some 930 feet front the six lane Florence Boulevard (Highway 72). Developing this property for commercial purposes could possibly be very advantageous for income tax purposes. Individuals wanting to take the tax credits will need to consult tax attorneys skilled in the use of these credits. The 180 year old brick on the property with its huge rooms, tall ceilings, and thick walls could be easily adapted to a variety of commercial uses. It is near the highway on a slight elevation. The tin roof was installed in 1985. Plumbing, electrical will need to be upgraded. As a former residence to Governor Patton of Alabama, there is a wealth of historical data about the uses of the house which range from a hospital to military headquarters. As one time, it even had a tenant.
NW Alabama's Shoals Area. Home to a pair of the newest Robert Trent Jones Golf Trail Courses. Within two miles of new 4 Star Marriott Hotel. Near NW Alabama's newest conference centers. Home to numerous bass tournaments, musical events, and cultural events. Near NW Alabama's largest retail center serving a retail population of 450,000 covering three states and ten counties. On the banks of the Tennessee River's Lake Wilson. Home to the University of North Alabama and Shoals Community College as well as a regional health center. Consistently rated highly in lists of places to retire. Low property taxes and low crime rates make the area popular with relocating boomers.
Added by: sdonley on 02/05/2011 DB#:82
Source(s):
http://www.loopnet.com/Listing/14641225/Highway-72...

---
Sweetwater Plantation lies on the eastern border of Florence, deserted and dilapidated. Susan Leigh Smithson of Atlanta currently owns the property, but may, or may not, be willing to part with the historical gem for a mere six million dollars. So far Smithson has refused interviews with local media--a practice that has left her actions open to both speculation and what can only be termed nasty gossip.

At some point in the 1980s, the plantation was placed on the market for $400,000.00. After no serious buyers came forward, the property was withdrawn, only to be relisted in 2006. Since 2006, 12 acres of the original 22 have been sold to the Holiday Inn group for a new motel complex to front Florence Boulevard. Now, in 2009, the asking price for the eight room plantation house and 10 remaining acres is still six million, causing some to question just how serious Smithson is in her attempts to sell the estate, currently listed with Cypress Realty Group.

This past week rumors began to circulate that Smithson is planning to open the home for tours to commence in October. The plantation house was completed by former Alabama governor Robert M. Patton in 1835 and is widely reported to be haunted by Patton's son Billy, a Civil War casualty, as well as others who have resided in the mansion over the years.

Smithson is said to have removed any remaining furniture from the home where renovations are in progress. Locals who have toured the home in the past few months doubt the edifice will be ready for the Halloween tourism that has boomed in the Shoals in recent years. Others aver the home will be presentable, with local volunteers acting as guides and portraying various historical characters associated with the Patton family.

While we fervently believe in historic preservation, recruiting volunteers to turn the plantation home into a money-maker for owner Smithson seems something more akin to the actions of a yam dankee than the southern aristocracy.

Added by: sdonley on 02/05/2011 DB#:83
Source(s):
http://shoalandaspeaks.blogspot.com/2009/09/sweetw...

---
Stories
Stories are just that. Stories and personal accounts that have been reported about the location.
---
The Sweetwater Plantation is situated in Florence, which is a site that has a few odd occurrences take place on the premises. For starters, music is known to play occasionally from an old piano located in the parlor where the former governor that ruled the area during the late 1800s once entertained visitors. The caretaker of the plantation tells a tale about a light on the second floor being turned on one night, as well as faucets acting up when she was trying to sleep. No one was responsible for the events so she believes it may have been a ghost.
Added by: sdonley on 02/05/2011 DB#:1058
Source(s):
http://www.unexplainable.net/artman/publish/articl...

---
Paranormal Claims
Here are the paranormal claims for this location. These have been found through Internet research, reports from members, or reports from personal interviews. To add a claim, please contact PANICd.com, and we will review and add your information.
---
| | | | |
| --- | --- | --- | --- |
| Claim # | Added | Added By | Claim |
| 1358 | 02/05/2011 | sdonley | Music can sometimes be heard coming from the a piano that used to sit in the parlor. |
| 1359 | 02/05/2011 | sdonley | Lights on the second floor will sometimes come on by themselves. |
| 1360 | 02/05/2011 | sdonley | Facets will sometimes turn on by themselves. |
Paranormal Evidence
Paranormal evidence is based on claims that have been reported for this location. There can be several types of evidence; however, we have grouped them based on media type for better organization. Here you will find evidence that are logs, audio, video, or photographic.
To add evidence for a claim, you must submit it to PANICd.com for approval to be entered into the database.
---
No Evidence Reported Yet!
Additional Resources
This is a collection of Internet resources for this location. This section will house links to other websites that contain information related to history, claims, investigations, or even the location's website.
---
No Reources Yet!