Sun Studio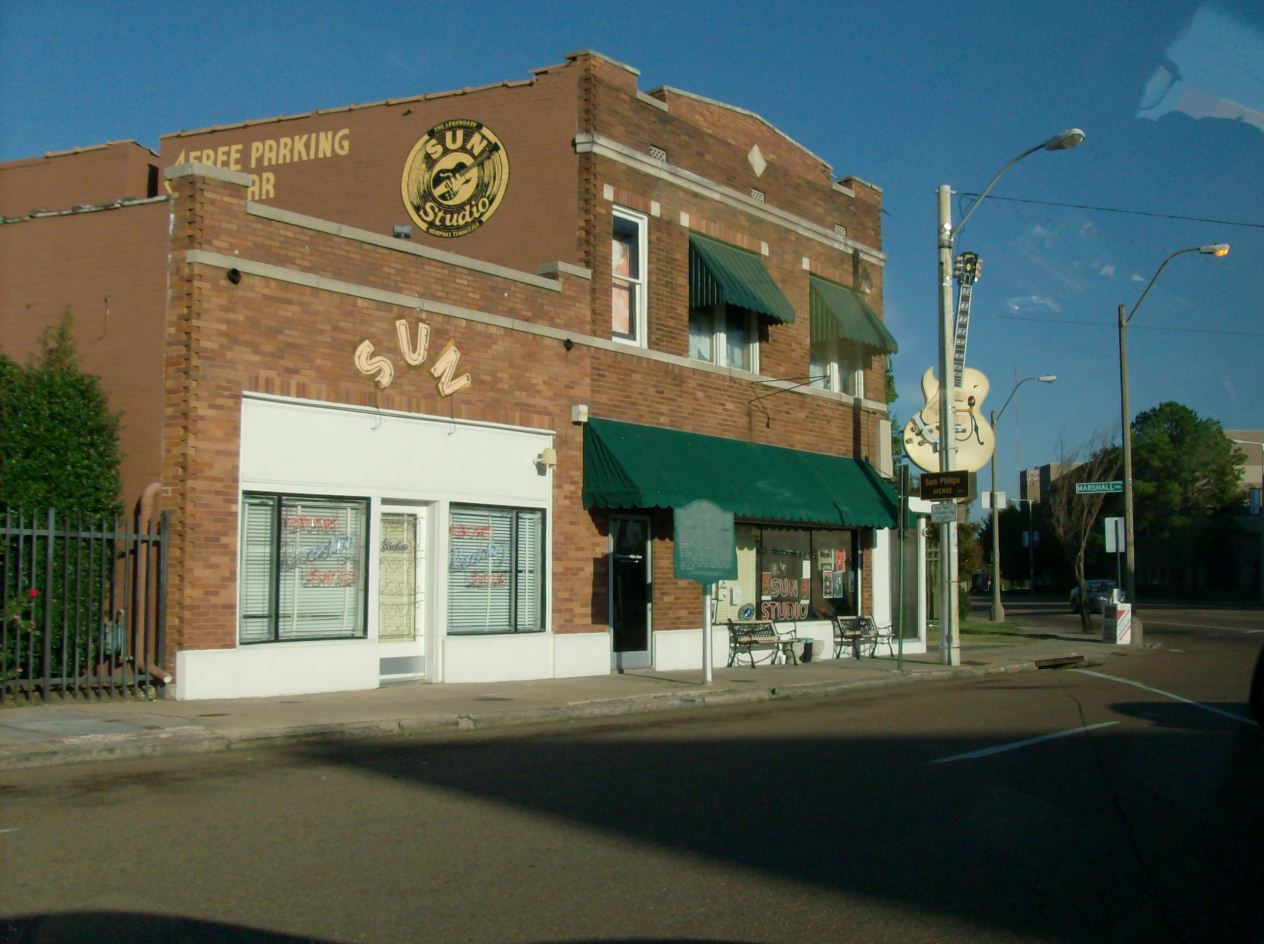 Photo by:
Marianne Donley
Location submitted by:
sdonley
on 10/18/2019
DBA Approved: Y
Larger Map
PANICd#: 2095

Sun Studio is a recording studio opened by rock-and-roll pioneer Sam Phillips at 706 Union Avenue in Memphis, Tennessee, on January 3, 1950. It was originally called Memphis Recording Service, sharing the same building with the Sun Records label business
706 Union Avenue
Memphis , TN 38103
Phone: (901) 521-0664
Open to the public: Yes
Lat: 35.139130
Lon: -90.037730
Database Summary:
Demographic Rank: 6
History: 1
Stories: 1
Claims: 2
Evidence: 0
Resources: 7
Retrievals: 6167
Vistor Rating: 0.0
Votes: 0
History
History information is some background and history about the location. This is meant to be a basic summary. Below the history records you will find sources in which you can click on to find out more information. There may be multiple history records per location.
---
Reputedly the first rock and roll single, Jackie Brenston and his Delta Cats' "Rocket 88" was recorded there in 1951 with song composer Ike Turner on keyboards, leading the studio to claim status as the birthplace of rock & roll. Blues and R&B artists like Howlin' Wolf, Junior Parker, Little Milton, B.B. King, James Cotton, Rufus Thomas, and Rosco Gordon recorded there in the early 1950s.
Rock and roll, country music, and rockabilly artists, including Johnny Cash, Elvis Presley, Carl Perkins, Roy Orbison, Charlie Feathers, Ray Harris, Warren Smith, Charlie Rich, and Jerry Lee Lewis, recorded there throughout the mid-to-late 1950s until the studio outgrew its Union Avenue location. Sam Phillips opened the larger Sam C. Phillips Recording Studio, better known as Phillips Recording, in 1959 to replace the older facility. Since Phillips had invested in the Holiday Inn Hotel chain earlier, he also recorded artists starting in 1963 on the label Holiday Inn Records for Kemmons Wilson. In 1957, Bill Justis recorded his Grammy Hall of Fame song "Raunchy" for Sam Phillips and worked as a musical director at Sun Records.
In 1969, Sam Phillips sold the label to Shelby Singleton, and there was no recording-related or label-related activity again in the building until the September 1985 Class of '55 recording sessions with Carl Perkins, Roy Orbison, Jerry Lee Lewis, and Johnny Cash, produced by Chips Moman.
In 1987, the original building housing the Sun Records label and Memphis Recording Service was reopened, by Gary Hardy as "Sun Studio," a recording label and tourist attraction that has attracted many notable artists, such as U2, Def Leppard, Bonnie Raitt, and Ringo Starr.
Added by: sdonley on 06/21/2022 DB#:562
Source(s):
https://en.wikipedia.org/wiki/Sun_Studio

---
Stories
Stories are just that. Stories and personal accounts that have been reported about the location.
---
After the museum closes at night, the studio is sometimes still and active recording studio for those who would like to go and record using the vintage equipment that was present during the time the studio was fully operational. Sometimes at night, other unknown things can happen as well. Stories of footsteps echoing upstairs at night float around the room at night, and Sonny himself claims to have been touched by somebody who wasn't there while on a studio tour.
Added by: sdonley on 10/18/2019 DB#:1542
Source(s):
https://medium.com/this-happened-to-me/spending-a-...

---
Paranormal Claims
Here are the paranormal claims for this location. These have been found through Internet research, reports from members, or reports from personal interviews. To add a claim, please contact PANICd.com, and we will review and add your information.
---
| | | | |
| --- | --- | --- | --- |
| Claim # | Added | Added By | Claim |
| 3218 | 10/18/2019 | sdonley | People have reported hearing footsteps upstairs in the museum at night. |
| 3219 | 10/18/2019 | sdonley | People have reported being touched by something that wasn't visible while on a studio tour. |
Paranormal Evidence
Paranormal evidence is based on claims that have been reported for this location. There can be several types of evidence; however, we have grouped them based on media type for better organization. Here you will find evidence that are logs, audio, video, or photographic.
To add evidence for a claim, you must submit it to PANICd.com for approval to be entered into the database.
---
No Evidence Reported Yet!
Additional Resources
This is a collection of Internet resources for this location. This section will house links to other websites that contain information related to history, claims, investigations, or even the location's website.
---
Wikipedia Entry
Added: 10/18/2019 By: sdonley
Wikipedia entry for this location.
Sun Studio
Added: 06/21/2022 By: sdonley
In 1954, an unknown Elvis Presley, grabbed a mic and sang his heart out making Sun the most famous recording studio in the world.
Sun Studio – The Birth Place of Rock & Roll
Added: 06/21/2022 By: sdonley
Sun Studio is considered the birthplace of rock 'n' roll and the career backbone for renowned artists like Elvis, Roy Orbison, B.B. King, Jerry Lee Lewis, and Johnny Cash. Located in Memphis, Tennessee, Sun Records is a must-see location for music lovers.
Scotty Moore : Sun Records
Added: 06/21/2022 By: sdonley
Photo © James V. Roy It is necessary to first make a distinction between some of the businesses talked about on this page so as to clear up some confusion. The "Memphis Recording Service" is a business that Sam Phillips started and located at 706 Union Ave in Memphis, TN.
Sun Studio
Added: 06/21/2022 By: sdonley
We noticed that you're using an unsupported browser. The TripAdvisor website may not display properly. We support the following browsers: Windows: Internet Explorer, Mozilla Firefox, Google Chrome. Mac: Safari.
The Birthplace of Rock 'N' Roll | Sun Studio
Added: 06/21/2022 By: sdonley
LOCATED AT 706 UNION AVENUE AT THE CORNER OF UNION AND MARSHALL.
Contact. The Official Site for Sun Studio. The Birthplace of Rock N' Roll and Home to the "Million Dollar Quartet" : Elvis Presley, Johnny Cash, Jerry Lee Lewis, and Carl Perkins.
Added: 06/21/2022 By: sdonley