Capitol Records Nashville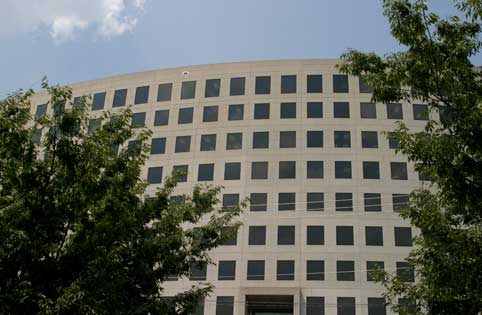 Photo by:
http://hauntedhouses.com/...
Location submitted by:
sdonley
on 02/16/2015
DBA Approved: Y
PANICd#: 1554
The Capitol Records building is a well-kept, very modern, plain gray office building with 11 floors. It sits on the corner of West End Avenue and Acklen Park Drive. Capitol Records shares this building with other renters.
3322 W. End Avenue # 11
Nashville , TN 37203
Open to the public: No
http://www.universalmusic.com/
Lat: 36.1400263
Lon: -86.81991010000002
Database Summary:
Demographic Rank: 5
History: 1
Stories: 1
Claims: 5
Evidence: 0
Resources: 2
Retrievals: 371
Vistor Rating: 0.0
Votes: 0
History
History information is some background and history about the location. This is meant to be a basic summary. Below the history records you will find sources in which you can click on to find out more information. There may be multiple history records per location.
---
Nashville. From 1991 to 1995, Capitol Nashville was known as Liberty Records, before returning to the Capitol Nashville name in 1995. While under the Liberty name, the label operated short-lived sister label Patriot Records from 1994 to 1995. In 1999, EMI launched Virgin Records Nashville but by 2001, Capitol absorbed the short-lived label. In 2010, the label launched sister label EMI Nashville. On March 23, 2011, Alan Jackson signed with Capitol's EMI Nashville division in conjunction with his own ACR Records label.
Capitol Nashville was also home to several successful comedy artists.
Added by: sdonley on 08/02/2017 DB#:312
Source(s):
https://en.wikipedia.org/wiki/Capitol_Records_Nash...

---
Stories
Stories are just that. Stories and personal accounts that have been reported about the location.
---
Before the Capitol Records building was built on this plot of land, the most magnificent mansion in Nashville stood at this location, built by Jacob Schnell around 1900. However, for some un-remembered reason, his daughters were rudely snubbed by the elite of the community. If one was to speculate, perhaps it was an issue of old money verses new money, mental illness or religion. This cruel rejection hurt the daughters and deeply affected them. The girls grew up traumatized and never left the care of their father. When their father died, they became reclusive, and let the house slowly slip into a decrepit state.
After they had both passed on, the home was sold to Capitol Records, who hired people to tear down the once magnificent mansion. However, the mansion was by then a far-gone fixer-upper which no concerned preservationist wanted to attempt to renovate.
On this site, Capitol Records had an eleven story, modern, and very plain gray office building built to house its company and other businesses. Over the years, other companies have moved onto various floors, but Capitol Records is still on the 11th floor of the building.
At one point, a psychic came to investigate, and felt a great sadness throughout the 11th floor suite. The sisters can't let go of the pain they felt from the rejection they received. (Perhaps they were a little mentally ill to begin with, which could've been the main factor of this rejection.)
The sisters are in mourning for the destruction of their home, and that such an inelegant building was built here.
Added by: sdonley on 08/02/2017 DB#:1266
Source(s):
http://hauntedhouses.com/states/tn/capitol_records...

---
Paranormal Claims
Here are the paranormal claims for this location. These have been found through Internet research, reports from members, or reports from personal interviews. To add a claim, please contact PANICd.com, and we will review and add your information.
---
| | | | |
| --- | --- | --- | --- |
| Claim # | Added | Added By | Claim |
| 2480 | 08/02/2017 | sdonley | Employees hear footsteps going down the hall when no one living was there. |
| 2481 | 08/02/2017 | sdonley | Doors open and close all by themselves. |
| 2482 | 08/02/2017 | sdonley | Items are moved around and put in odd places. |
| 2483 | 08/02/2017 | sdonley | Unlocked doors are locked to the annoyance of the living. |
| 2484 | 08/02/2017 | sdonley | Electrical gadgets and equipment prove to be irresistible to these entities, who like to play with them. |
Paranormal Evidence
Paranormal evidence is based on claims that have been reported for this location. There can be several types of evidence; however, we have grouped them based on media type for better organization. Here you will find evidence that are logs, audio, video, or photographic.
To add evidence for a claim, you must submit it to PANICd.com for approval to be entered into the database.
---
No Evidence Reported Yet!
Additional Resources
This is a collection of Internet resources for this location. This section will house links to other websites that contain information related to history, claims, investigations, or even the location's website.
---