Hotel Conneaut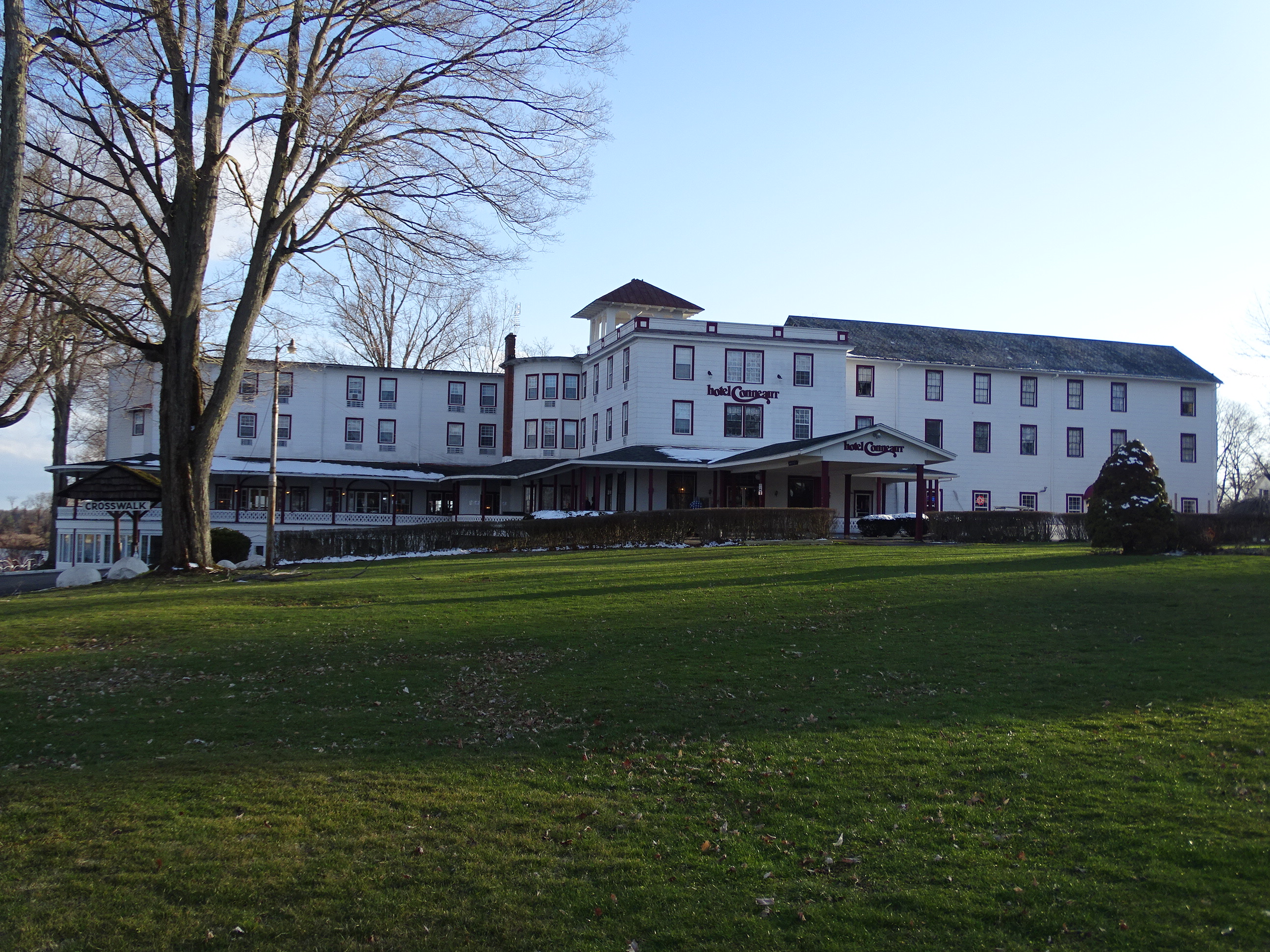 Photo by:
http://www.clphotelconnea...
Location submitted by:
sdonley
on 12/15/2013
DBA Approved: Y
Larger Map
PANICd#: 1312

Conneaut Lake Park was founded in 1892 as Exposition Park by Col. Frank Mantor as a permanent fairground and exposition for livestock, machinery, and industrial products from Western Pennsylvania.
12241 Lake Street
Conneaut Lake , PA 16316
Phone: 814-213-0120
Open to the public: Yes
http://www.clphotelconneaut.com/
Lat: 41.6205969
Lon: -80.29525590000003
Database Summary:
Demographic Rank: 6
History: 1
Stories: 1
Claims: 4
Evidence: 0
Resources: 0
Retrievals: 1908
Vistor Rating: 0.0
Votes: 0
History
History information is some background and history about the location. This is meant to be a basic summary. Below the history records you will find sources in which you can click on to find out more information. There may be multiple history records per location.
---
Conneaut Lake Park was founded in 1892 as Exposition Park by Col. Frank Mantor as a permanent fairground and exposition for livestock, machinery, and industrial products from Western Pennsylvania. Prior to this time, 7 acres of land on which the park is located were purchased in 1877 by Aaron Lynce for use as a boat landing. Col. Mantor's company, the Conneaut Lake Exposition Company, purchased an additional 175 acres of adjacent land, 75 of which were given to Mr. Lynce as payment for his parcel.
During its early years, buildings at Exposition Park included a dance hall, a convention hall (for lectures), and a bathhouse. Several of the structures from Lynce's landing were also retained as well as a farmhouse on the property that was converted to a hotel. The park's first mechanical ride, a carousel, opened in 1899, and was soon joined by other rides and a midway.
Ownership of the park transferred to the Pittsburgh & Shenango Valley Railroad in 1901, during which time several hotels were built on the property. Originally accessible only by boat or train, trolley service was extended to the park in 1907. With its lakefront presence, hotels, and remote location, the park became a popular resort destination. Although many of the park's original buildings were lost in a 1908 fire, new concrete block replacements were constructed, including the Dreamland Ballroom.
Added by: lmizenko on 01/30/2015 DB#:200
Source(s):
http://en.wikipedia.org/wiki/Conneaut_Lake_Park

---
Stories
Stories are just that. Stories and personal accounts that have been reported about the location.
---
The Hotel Conneaut, called "The Crown Jewel of Lake Conneaut" in Crawford County, dates back to 1903. It features 150 rooms, old time, turn-of-the-century ambiance, and as to be expected by its vintage, some long-time guests who checked in but never checked out.
The most famous apparition is Bride Elizabeth. Her and her guy were honeymooning at the Hotel on April 27, 1943, when a terrible fire occurred. Lightning struck the hotel's wooden roof during a thunderstorm, and it burst into flame.
Legend has it that her hubby, thinking Elizabeth had already escaped, fled the building to find her. But Elizabeth was still inside the hotel desperately searching for her husband and quickly became trapped by the flames and perished. (or maybe she looking for the fire escape at the end of the hall. She hasn't told us yet.)
They were in room 321, and she's said to mainly wander in the hallway of third floor, still in her wedding gown, trailing a phantom scent of jasmine while softly sobbing. The room itself is the site of orbs, whispered conversation, messed up linens, water that runs for no reason and windows that open by themselves.
Elizabeth doesn't limit herself to the third floor, though - she's been reported all over the hotel and even in the adjoining amusement park. Those whispered voices have been heard all over the building, allegedly the otherworldly playback of the last conversations between Elizabeth and her husband.
She's become so famous that the hotel restaurant/bar is called Elizabeth's Dining Room & Spirit Lounge in her honor (heck, she's even mentioned in Wikipedia!), and her "ghost book" is prominent in the hotel lobby.
But she shares the space with a bevy of spooks. There's lore regarding an old chef who dismembered a butcher in the kitchen. A spectral couple can be seen dancing in the first floor Grand Ballroom. A soldier has been spotted in a tree on the Hotel lot. The spirit of a former hotel employee, John, may join you in the lobby.
And there are tales of little Angelina, a child who legend claims died long ago when her tricycle either tumbled down a flight of stairs or off the hotel balcony. She now rides her trike on the porch of the Hotel, crashing into people. Angelina has also been spotted in the halls, looking for a playmate.
Added by: lmizenko on 01/30/2015 DB#:1154
Source(s):
http://hauntsandhistory.blogspot.com/2010/12/hotel...

---
Paranormal Claims
Here are the paranormal claims for this location. These have been found through Internet research, reports from members, or reports from personal interviews. To add a claim, please contact PANICd.com, and we will review and add your information.
---
| | | | |
| --- | --- | --- | --- |
| Claim # | Added | Added By | Claim |
| 1890 | 01/30/2015 | lmizenko | The smell of Jasmine perfume. |
| 1891 | 01/30/2015 | lmizenko | Whispered conversations. |
| 1892 | 01/30/2015 | lmizenko | Apparition of a child on a tricycle. |
| 1893 | 01/30/2015 | lmizenko | Apparition of Elizabeth "the Bride". |
Paranormal Evidence
Paranormal evidence is based on claims that have been reported for this location. There can be several types of evidence; however, we have grouped them based on media type for better organization. Here you will find evidence that are logs, audio, video, or photographic.
To add evidence for a claim, you must submit it to PANICd.com for approval to be entered into the database.
---
No Evidence Reported Yet!
Additional Resources
This is a collection of Internet resources for this location. This section will house links to other websites that contain information related to history, claims, investigations, or even the location's website.
---
No Reources Yet!