Lima TB Hospital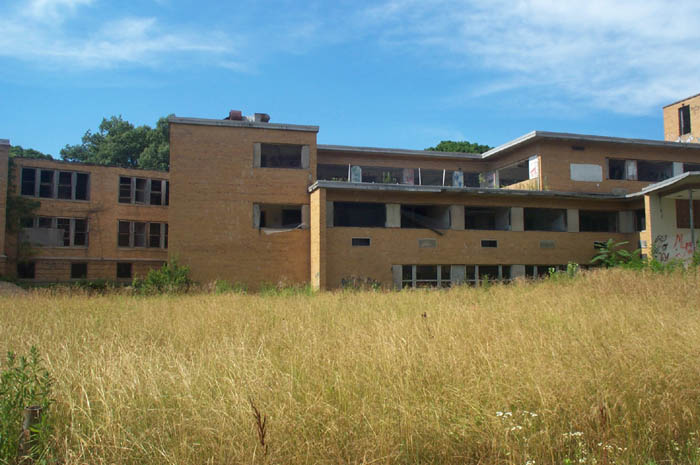 Photo by:
http://www.forgottenoh.co...
Location submitted by:
sdonley
on 02/14/2015
DBA Approved: Y
Larger Map
PANICd#: 1336
An old Tuberculosis Hospital that is now closed and abandoned.
2001 Garden Street
Lima , OH 45805
Open to the public: No
Lat: 40.722352
Lon: -84.142134
Database Summary:
Demographic Rank: 4
History: 1
Stories: 1
Claims: 3
Evidence: 0
Resources: 1
Retrievals: 1565
Vistor Rating: 0.0
Votes: 0
History
History information is some background and history about the location. This is meant to be a basic summary. Below the history records you will find sources in which you can click on to find out more information. There may be multiple history records per location.
---
The Lima District Tuberculosis hospital, opened April 5, 1911 as a 24 bed facility.
It was one of the earliest hospitals in the state to treat tuberculosis. The hospital launched a 50 year battle against the disease. The hospital was enlarged in 1927-28, when the number of Tubercular patients increased, almost $900,000 was appropriated by Allen, Auglaize, Mercer, Van Wert, and Shelby Counties. At this time patients were required three to five years hospitalization treatment. It was remodeled in 1957, providing room for 138 patients, with the latest physical facilities and equipment to care and cure the sick.
By 1961, the hospital was a joint venture of the five counties since the hospital district was formed. Approximately 5000 patients have received treatment.[as of 1960] The number of patients entering the hospital is constant, but with modern methods and medicines the time of stay has been cut in half. As late as 1962, people who worked with the public, serving food, were required to obtain a TB test at the Board of Health each year.
Between January, 1914 and May 1917, surveying 140 people, 18 died of tuberculosis. It ranked with pneumonia as the leading cause of death among this group.
The hospital's name was changed in January 1960, to the Ottawa Valley Hospital. With the decline of tubercular patients, non-tubercular patients were admitted. Modern chemotherapy rapidly reduced the number of tuberculosis patients and the need for long term care. In 1970, the Ohio Department of Health designated two regional TB hospitals as eligible for State subsidy. Lima Tuberculosis Hospital was forced to close with the loss of these funds.
Added by: lmizenko on 03/17/2015 DB#:254
Source(s):
http://genealogytrails.com/ohio/allen/limatbhospit...

---
Stories
Stories are just that. Stories and personal accounts that have been reported about the location.
---
The legend says that the ghosts of the dead tuberculosis victims will follow you on your trip through the hospital, always staying a few steps behind you; you rarely catch sight of them, but you can hear (and sense) their presence further back the way you came, no matter where you go. We did have a scary feeling something like this, but it's hard to say what's real and what's nerves. However, many of the people who visit the TB hospital have seen and heard very scary things.
Added by: lmizenko on 03/17/2015 DB#:1204
Source(s):
http://www.forgottenoh.com/LimaTB/limatb.html

---
Paranormal Claims
Here are the paranormal claims for this location. These have been found through Internet research, reports from members, or reports from personal interviews. To add a claim, please contact PANICd.com, and we will review and add your information.
---
| | | | |
| --- | --- | --- | --- |
| Claim # | Added | Added By | Claim |
| 2188 | 03/17/2015 | lmizenko | Banging noises have been reported. |
| 2189 | 03/17/2015 | lmizenko | Strange foot steps been reported. |
| 2190 | 03/17/2015 | lmizenko | Mysterious voices have been heard and recorded. |
Paranormal Evidence
Paranormal evidence is based on claims that have been reported for this location. There can be several types of evidence; however, we have grouped them based on media type for better organization. Here you will find evidence that are logs, audio, video, or photographic.
To add evidence for a claim, you must submit it to PANICd.com for approval to be entered into the database.
---
No Evidence Reported Yet!
Additional Resources
This is a collection of Internet resources for this location. This section will house links to other websites that contain information related to history, claims, investigations, or even the location's website.
---
Cleveland Scene
Added: 02/14/2015 By: sdonley
Article on ClevelandScene.com