Santa at the bedroom door
Definition: Christmas Ghost Story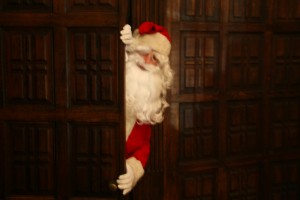 It was 1961 on Christmas Eve. We were living in Boardman, Ohio. My bedroom was at the end of the house. I went to sleep on Christmas Eve. I don't know what time it was, but I know it was very late when I suddenly woke up. I was staring at my bedroom door, which was catty-corner from my bed. The door slowly opened, and I squinted my eyes shut just a bit because I didn't want my mother or father to catch me up in the middle of the night. There was a nightlight in the hallway and one behind the dresser in my room, so there was some light.
I was so astonished, however, at who opened the bedroom door. I found myself looking at a man dressed in a red suit. He had white trim around his waist, like fur, a long white beard, and was wearing a Santa hat. He had red pants and black boots. If I close my eyes, I can still see Santa standing in my door, it made such an impression on me.
He stood there and looked at me for a few seconds, then closed the door. I pulled the blankets over my head for a while - I was so scared! Finally, I looked out, but no one was there. The next day, I asked my mother if she or my father had been out of bed the previous night. My mother said no; in fact, my sister was only four months old, and my mother said she had slept through the night for the first time, and neither of my parents had gotten up, they were tired and they both slept.
So I don't know who or what looked in my bedroom that night. I told my mother I saw Santa, and she got really mad at me and told me that I did not. But I know what I saw... it was Santa Claus. And I swear this story did happen! I know I wasn't dreaming. - Karrie K.
Collections:
Christmas Ghost Stories
Related Categories:
| A Call From Beyond | Automatic Drawing - A Christmas Ghost Story | Christmas Church Ghost | Christmas Eve and Ghost Stories | Christmas Ghost Caress | The Christmas Visitor | Santa Stuffs The Stockings | Santa and and Elf | Poltergeist - It Started One Christmas | Haunted Christmas | Bakers Dozen | Eavesdropper | Yule Log - Used for ghost stories | St. Lukes - A Christmas Mass | Spinning a Winters Tale | Mothers Christmas Present | The Pushy Ghost | Warned by Guardian Angel | Hark the Harold Angels Sing | Seaside Ghost | The Lost Ghost | Christmas Phone Call from Heaven | The Golden Feather |
Resources:
db#529
What are your thoughts?