Winchester Cathedral Monks
Definition: Noted ghost researcher Hans Holzer took this picture in Winchester Cathedral, which might show the ghosts of monks in procession.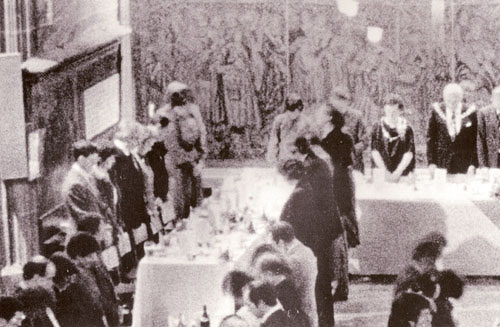 Awhile ago, I asked readers if they remembered a photograph of the ghosts of monks taken in a church. I remembered seeing the picture as a kid, but did not recall any details. Well, reader Anne Vaccari has come through for us and found the photo, which appeared in the March 20, 1966 edition of Family Weekly magazine, a Sunday newspaper supplement.
Anne says: "I write to you with great pleasure in regards to an article you wrote back in 2009 about a photograph which depicts ghostly monks walking down an aisle in an Abbey. My mother told me about this years ago, about how upon further research, the photographers found out that the monks shortened height was due to the fact that they were walking on the original floor which since then had been raised.
"I asked my mom again and we were off on a merry search! She thought she had seen it on a program from the 1960s, which we sifted through - nothing. Then with your article and the various comments, one mentioning Hans Holzer, I was able to finally come upon it!
"It is close up so you will have to locate the zoom out button to see the whole thing. This is very exciting and a massive relief as I had yearned to find this mysterious ghost story/photo!"
Thanks again, Anne. I was beginning to despair that I'd never see it again. In the article, by famed ghost hunter (the original Ghost Hunter, folks!) Hans Holzer, he says, "I had heard that a number of persons had seen figures of ghostly monks walking in procession in Winchester Cathedral -- where no living monks had set foot since the early 1500s when Henry VIII had executed many of them on the very spot.
"I took pictures in four different directions. When the photos were developed, one of the four pictures I took showed three hooded monks walking in procession!
"Interestingly, they seemed to be walking at a level somewhat lower than they should have been if they had their feet on the cathedral floor. I found out later, however, that the floor of the cathedral was raised a century after the last monk had been driven out!"
So, a big thanks once more to Anne for locating the picture. I wish only that it was a clearer copy, as I remember in the reproduction in the magazine the monks were more easily seen. This version is a scan of the magazine for the Sarasota Herald-Tribune's archives. So if anyone can find a better copy of the picture, that would be great!
Collections:
Famous Ghost Photos
Related Categories:
| Farm Ghost | The Freddy Jackson Ghost | The Ghost of Robert A. Ferguson | The House of Seven Gables | San Antonios Railroad Crossing Ghost | The Ghost of Boothill Cemetery | The Brown Lady Ghost | The Back Seat Ghost | The Vacation Party Ghost | Madonna of Bachelors Grove | Godfathers Pizza Ghost | Decebal Hotel Ghost | Ghost in the Burning Building Fake | The Tulip Staircase Ghost | The Lord Combermere Ghost | Specter of Newby Church | Sefton Church Ghost | Phantom Pilot Photo | Ghost in the Choir Loft | Picture of Grandpas Ghost | Ghostly Grip | Haunted Bureau Ghost Picture | Picture of Cemetery Ghost Baby | The Watcher | Coventry Spectre Ghost Picture | Pink Lady of Greencastle | Ghost of White Lady of Worstead Church | Electric Chair Ghost picture | Photo of Cloe at Myrtles Plantation |
Resources:
db#790
What are your thoughts?