Chateau de Mores State Historic Site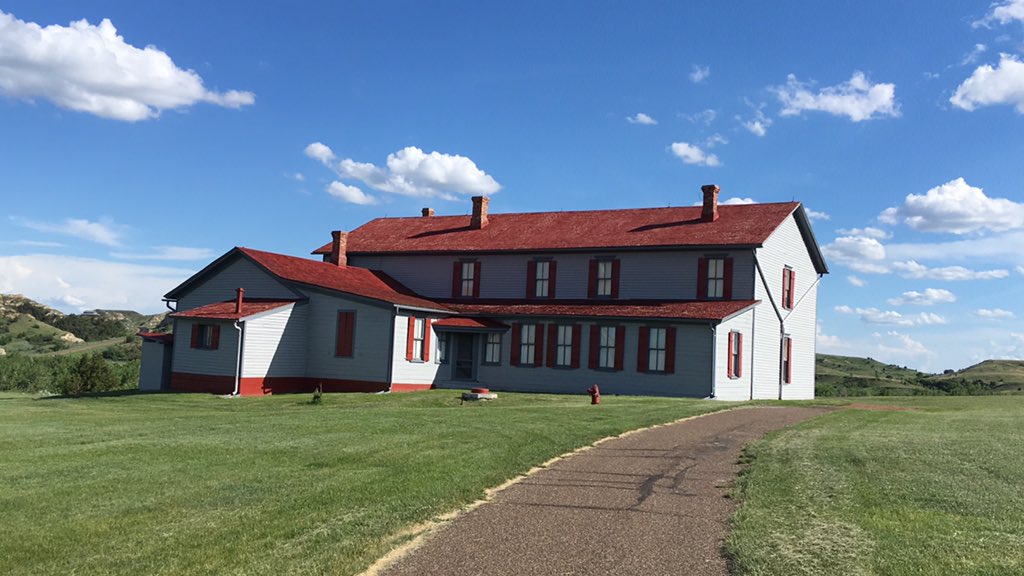 Photo by:
Kay Johnson - Happy Trail...
Location submitted by:
sdonley
on 06/14/2019
DBA Approved: Y
Larger Map
PANICd#: 2063
This 26-room, two-story frame building was built in 1883 as the summer residence of the Marquis's family. The Chateau is now a historic house museum and contains many of the original furnishings and personal effects of the de Mores family.
3426 Chateau Rd
Medora , ND 58645
Phone: (701) 623-4355
Open to the public: Yes
http://www.history.nd.gov/historics...
Lat: 47.032990
Lon: -103.644530
Database Summary:
Demographic Rank: 6
History: 1
Stories: 1
Claims: 4
Evidence: 0
Resources: 9
Retrievals: 3793
Vistor Rating: 0.0
Votes: 0
History
History information is some background and history about the location. This is meant to be a basic summary. Below the history records you will find sources in which you can click on to find out more information. There may be multiple history records per location.
---
The Marquis was a French aristocrat and entrepreneur who came to the Dakota badlands in 1883 to establish a new kind of cattle operation. He planned to slaughter and cold pack his cattle and ship it east in refrigerated rail cars. The slaughterhouse was built in the town which the Marquis founded and named for his wife, Medora Marie Von Hoffman. Medora was named for her aunt, the second wife of Samuel Cutler Ward. She was also the granddaughter of John Randolph Grymes and his wife Suzette Claiborne, who was also the third wife of Gov. William C.C. Claiborne. He built many structures in the town for those he employed in his operations, including St. Mary's Catholic Church. For three years the small town bustled, but in 1886 the operation collapsed due to drought, competition from meat packers back east, and the Marquis' own lack of business experience, and the plant was abandoned. The Marquis and his family returned to Europe, but left behind a small town rife with the flavor and romanticism of the American Old West.
The chateau was occupied seasonally by the family for only three years from 1883 to 1886. During the harsh winter months they would go to France, returning again in spring. After 1886 the Marquis visited the chateau twice, in 1887 and 1889, while Medora and their children visited only once more in 1903 after the Marquis' death, at which time she spent six weeks there.
From this time on the house was maintained by caretakers. They would ready the house for occupation in the spring but the family never returned. The eldest son gave the caretakers permission to operate the chateau as a boarding house in 1921. During this period the house suffered from theft and lack of maintenance.
The home and the land on which it sat was given to the state of North Dakota in 1936 on the condition that it be maintained and opened to the public. It was restored from 1937 to 1941 by the Civilian Conservation Corps and again in 1995.
Added by: sdonley on 06/14/2019 DB#:400
Source(s):
https://en.wikipedia.org/wiki/Chateau_de_Mores

---
Stories
Stories are just that. Stories and personal accounts that have been reported about the location.
---
Once the home of Marquis de Mores and his wife Medora, the historic chateau is open for tours, but guests may see more than its original furnishings. The chateau is said to be haunted by a female apparition and some strange lights that come on when no one is in the building. Uneasy feelings and cold spots also have been reported by visitors.
Added by: sdonley on 06/14/2019 DB#:1405
Source(s):
https://www.hauntedplaces.org/item/chateau-de-more...

---
Paranormal Claims
Here are the paranormal claims for this location. These have been found through Internet research, reports from members, or reports from personal interviews. To add a claim, please contact PANICd.com, and we will review and add your information.
---
| | | | |
| --- | --- | --- | --- |
| Claim # | Added | Added By | Claim |
| 2789 | 06/14/2019 | sdonley | A female apparition has been spotted. |
| 2790 | 06/14/2019 | sdonley | Strange lights come on when no one is in the building. |
| 2791 | 06/14/2019 | sdonley | People have reported uneasy feelings. |
| 2792 | 06/14/2019 | sdonley | People have reported cold spots. |
Paranormal Evidence
Paranormal evidence is based on claims that have been reported for this location. There can be several types of evidence; however, we have grouped them based on media type for better organization. Here you will find evidence that are logs, audio, video, or photographic.
To add evidence for a claim, you must submit it to PANICd.com for approval to be entered into the database.
---
No Evidence Reported Yet!
Additional Resources
This is a collection of Internet resources for this location. This section will house links to other websites that contain information related to history, claims, investigations, or even the location's website.
---