Mennens Borate Talcum Toilet Powder Advertisement
Definition: This sign was painted up on the cliffs on the Maryland side looking directly at Harpers Ferry, WVa. in 1896.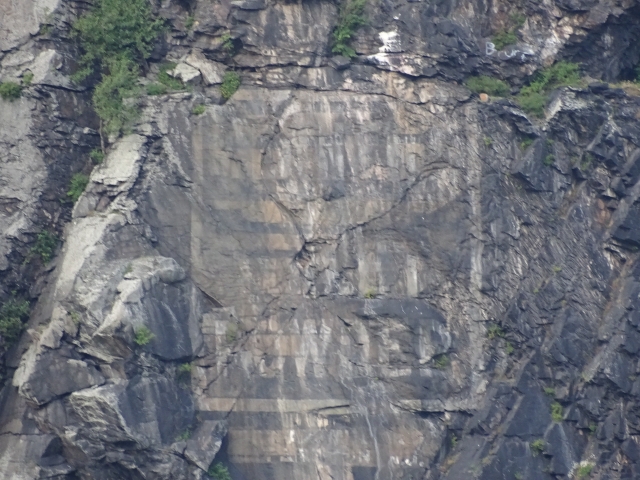 This sign was an advertisement for: "Mennen's Borate Talcum Toilet Power."
Local legend is that the sign was painted by a German immigrant who was paid $45 to scale down the side of the heights and paint the advertisement on the perpendicular rocks. It allegedly took the worker six weeks to paint the advertisement and he mixed his paint with goats milk. The sign is still visible today, despite several attempts to eradicate it, including sand blasting.
Another local legend, is that they immigrant had his wife with him and she helped him from above as he scaled down the wall. As he ended up doing the final touches on the painting, his rope mysteriously broke and he fell to his death. She collected the funds for the job and disappeared from the area.
Photos taken by Marianne Donley of PANICd.com on July 13, 2017.
Additional Photos for this Topic:



SAVE THESE PHOTOS ON PINTEREST
Collections:
Harpers Ferry, WVa.
Related Categories:
| Jefferson Rock Photos | St. Johns Church Ruins Harpers Ferry | Old Iron Horse Inn Photos | Harpers Cemetery Photos | Hog Alley Harpers Ferry Photos |
db#1077
What are your thoughts?