Yorktown Memorial Hospital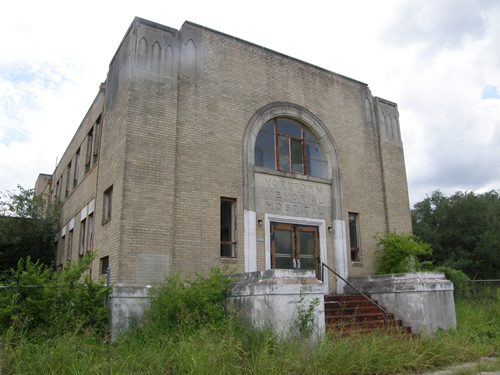 Photo by:
http://www.phantomsandmon...
Location submitted by:
sdonley
on 11/10/2013
DBA Approved: Y
Larger Map
PANICd#: 1282
Yorktown Memorial Hospital was built in 1950 and closed in the late 1980s, but is yet still extremely active.
728 W Main St.
Yorktown , TX 78164
Open to the public: Unknown
Lat: 28.9794879
Lon: -97.51240410000002
Database Summary:
Demographic Rank: 5
History: 1
Stories: 1
Claims: 10
Evidence: 0
Resources: 2
Retrievals: 2831
Vistor Rating: 0.0
Votes: 0
History
History information is some background and history about the location. This is meant to be a basic summary. Below the history records you will find sources in which you can click on to find out more information. There may be multiple history records per location.
---
The hospital is located at 728 West Main Street across from Yorktown Motel and Apple Hardware and Feedstore in Yorktown, Texas. Yorktown is about 75 miles SE from San Antonio. If you are driving from San Antonio, you will take Hwy. 87 towards La Vernia and Stockdale and turn right on Hwy. 119 traveling another 34 miles to Yorktown.
Yorktown Memorial Hospital was built in 1950 and closed in the late 1980s.
The hospital building is about 30,000 square feet including a full basement, main administration floor, two 100 foot wings, a chapel, and second floor living quarters.
Yorktown Memorial Hospital was founded and operated by the Felician Sisters of the Roman Catholic Church.
The hospital is private property and not a commercial enterprise, responsible groups and individuals can visit Yorktown Memorial Hospital on a private rental basis for tours, photography and paranormal investigations on a reservation basis only.
Added by: sdonley on 02/12/2015 DB#:244
Source(s):
http://yorktownhospital.com/faq

---
Stories
Stories are just that. Stories and personal accounts that have been reported about the location.
---
Yorktown Memorial Hospital was built and operated by the Felician Sisters and the Catholic Hospital. The "Memorial" part of the title was meant to memorize the many men in the area who had fought in World War II. The hospital was built through fundraising, local donors, and grants from even the Ford Motor Company. The idea for the hospital came out of need, since the nearest hospital was located in San Antonio. Construction got underway in 1950 and the hospital opened in 1951. The hospital operated successfully for many years, the nearby Nordheim, TX newspaper lists a total of 600 deaths in a six year period - quite a large amount for the size of the hospital and the area. The hospital closed in 1986 after a bigger, better hospital opened up in nearby Cuero. After the hospital closed, it was turned into a drug rehabilitation facility, which was eventually shut down by the state for their inability to control their patients. One patient walked across the street to the feed store and slapped an employee in the face. While it was a rehab center, a double murder took place in the basement. One female employee was involved with not only a co-worker, but also a patient. The patient survived the encounter saying he was in the basement with the female worker when the other male co-worker discovered them and stabbed her to death. Then the patient claimed to have wrestled the knife away from the male worker and stabbed him in self-defense. Another man died of a drug overdose when his friends dropped his lifeless body off at the emergency entrance to the facility, rang the emergency buzzer, and drove off. It is believed TJ's spirit still roams the hospital, as a large very black shadow is seen walking through the basement constantly.
Because of its location, it was difficult to attract doctors, but they did have one champion of the hospital, Dr. Leon Nowiersky. He practiced into his 90's, and when he retired he held the oldest medical license in the state. He was also notorious for making mistakes, once even slitting a patients throat during a thyroid procedure. He died shortly after being forced to retire. It is believed he haunts the hospital, mainly the ER/OR hallway which is also near the doctor's lounge. After retiring one doctor swore he saw Dr. Nowiersky walk by the lounge door late at night. Many believe there is at least one spirit of one of the Felician sisters still going about her business in the hospital as photographs have captured a woman in a black dress, wearing what looks to be a habit. There is a spirit in the second floor apartment that does not like women, or men with tattooes. Paranormal investigators have heard growling inside the chapel when you read from the bible. Shadows are prevalent in every part of the hospital, but mainly from just inside the 4-way where the hallways meet looking down to the ER/OR rooms, and down the other side to labor and delivery. Shadows are seen in the basement as well...and they've been known to charge you. The basement is extremely dangerous. People have been scratched, people have had things thrown at them, and one woman even suffered a seizure. The hospital is incredibly active and voices/EVP's are of the intelligent nature carrying on full conversations with you. That's probably why Ghost Adventures chose to feature this hospital, and the named it..."EVP Hospital". The ghosts here are not shy.
There are also rumors about the hospital having a mental ward at one point, and rumors of a tuberculosis outbreak with a quarantine on the second floor. The nuns lived on site and each spent their lives working to serve others in the hospital. On our previous investigation we captured a scream in the delivery room, the only room that contains an original hospital gurney. Recently there have been reports of a little girl spirit named Stacy who was very sick in the hospital and was in a room on the first floor.
The current owners offer tours and overnight stays in the hospital. This is definitely a place you need to check out. To our knowledge there isn't an investigation that has come up empty handed yet.
Added by: sdonley on 02/12/2015 DB#:1197
Source(s):
http://www.therussellrushhauntedtour.com/articles/...

---
Paranormal Claims
Here are the paranormal claims for this location. These have been found through Internet research, reports from members, or reports from personal interviews. To add a claim, please contact PANICd.com, and we will review and add your information.
---
| | | | |
| --- | --- | --- | --- |
| Claim # | Added | Added By | Claim |
| 2146 | 02/12/2015 | sdonley | The apparition of a former Dr. has been reported. |
| 2147 | 02/12/2015 | sdonley | An apparition of a women wearing a black dress and habit has been captured. |
| 2148 | 02/12/2015 | sdonley | There is a spirit on the second floor that does not like women or tattoos. |
| 2149 | 02/12/2015 | sdonley | Growling noises have been heard in the chapel when someone reads the bible. |
| 2150 | 02/12/2015 | sdonley | Shadow figures have been reported throughout the building. |
| 2151 | 02/12/2015 | sdonley | Shadow figures in the basement have been known to charge people. |
| 2152 | 02/12/2015 | sdonley | People have been scratched. |
| 2153 | 02/12/2015 | sdonley | People have had things thrown at them. |
| 2154 | 02/12/2015 | sdonley | One women was so upset she suffered a seizure in the building. |
| 2155 | 02/12/2015 | sdonley | Voices have been recorded carrying on intelligent conversations. |
Paranormal Evidence
Paranormal evidence is based on claims that have been reported for this location. There can be several types of evidence; however, we have grouped them based on media type for better organization. Here you will find evidence that are logs, audio, video, or photographic.
To add evidence for a claim, you must submit it to PANICd.com for approval to be entered into the database.
---
No Evidence Reported Yet!
Additional Resources
This is a collection of Internet resources for this location. This section will house links to other websites that contain information related to history, claims, investigations, or even the location's website.
---