Treasure of the Knights Templar
Definition: The story of the Treasure of the Knights Templar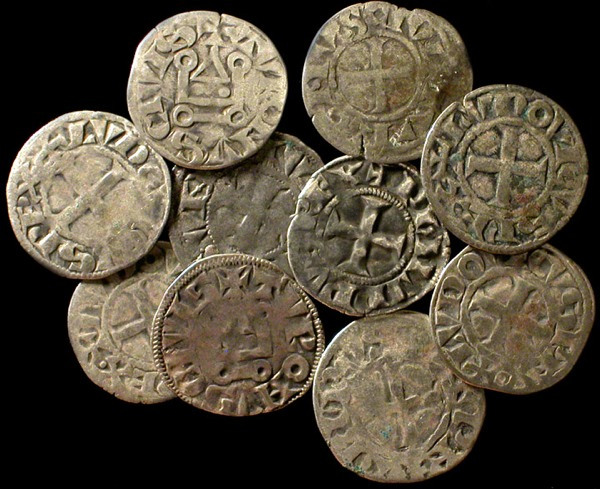 In recent years, the Knights Templar and its treasure has been made famous in both Hollywood and in numerous books. It is one of the most famous and mysterious treasures in history. The Knights Templar formed in A.D. 1114, and over the following years accumulated a massive fortune, which has never been found.
In the early 14th century, the Templars were ordered to be arrested, and those who escaped this capture and torture reportedly gathered the remaining treasure and loaded it onto ships to unknown destinations. A common belief is that the remaining Templars took their treasure to Scotland, and from there, it eventually found its way to Nova Scotia. Rumors persist of a vast money pit on Oak Island in that province of Canada, where it is believed by some that the Templars hid their money amidst booby traps. The search has continued on Oak Island over the years, and in fact originally the treasure in the Money Pit was apparently believed to have belonged to the infamous Captain Kidd. But as more of Kidd's treasure has been found, it is now believed that the Pit contains the Templar riches.
Collections:
Lost Treasures
Related Categories:
| The Alamo Treasure | Dutch Schultz Treasure | Victorio Peak Treasure | Montezuma Treasure | The Lufthansa Heist | The Amber Room | Flor do Mar | Leon Trabuco Gold | Blackbeard Treasure | Forrest Fenn Hidden Treasure | Treasure At Little Bighorn | Treasure In The Majave Dessert | Mosby Treasure in Virginia | 63 Million Dollars Hidden in Bedford County Virginia | Treasure Of Jean LaFitte | Butch Cassidy Treasure | John Dillinger Buried Treasure | 200 Million Off the Coast of Key West | The Treasure of San Miguel |
Resources:
db#953
What are your thoughts?