Blackbeard Treasure
Definition: The story about Blackbeard's Treasure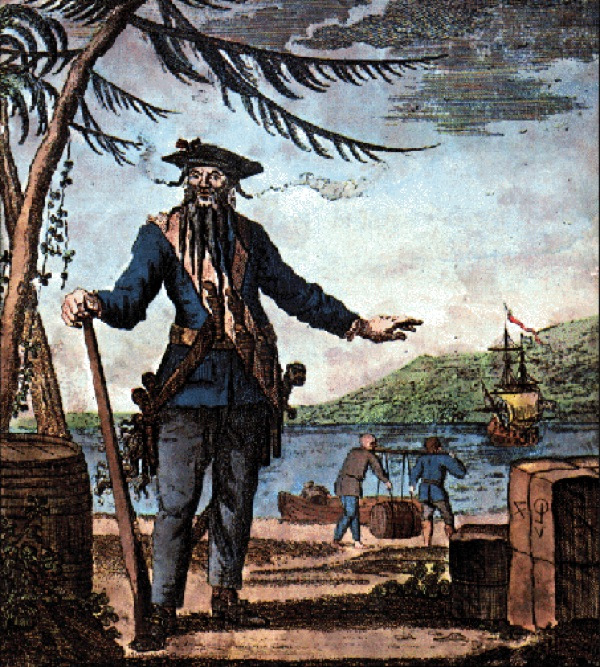 In 1996, archaeologists discovered a shipwreck off the coast of North Carolina, less than a mile and a half from the shore and sitting a mere twenty-five feet (7.6 meters) below sea level. It is not particularly uncommon to find a shipwreck, but this is possibly one of the biggest nautical finds in the history of treasure hunting. That's because many people believe the ship was the Queen Anne's Revenge, also known as the flagship of the infamous pirate Blackbeard. In 1718, the Queen Anne's Revenge blockaded the port of Charleston and soon after it ran aground on a sandbar.
So what's the big deal? Well, for starters, Blackbeard was a wildly successful and rich pirate, and the location of his largest and most prized ship, some believe, means his vast fortune must have been located nearby on the North Carolina coast. Since the wreck was found - and it should be noted, it has not yet been confirmed to have been the Queen Anne's Revenge - not an ounce of gold has been found near or on the ship. Before he died, Blackbeard was questioned about the location of his gold, leading him to say, "Only I and the devil know."
Collections:
Lost Treasures
Related Categories:
| The Alamo Treasure | Dutch Schultz Treasure | Victorio Peak Treasure | Montezuma Treasure | The Lufthansa Heist | The Amber Room | Flor do Mar | Leon Trabuco Gold | Treasure of the Knights Templar | Forrest Fenn Hidden Treasure | Treasure At Little Bighorn | Treasure In The Majave Dessert | Mosby Treasure in Virginia | 63 Million Dollars Hidden in Bedford County Virginia | Treasure Of Jean LaFitte | Butch Cassidy Treasure | John Dillinger Buried Treasure | 200 Million Off the Coast of Key West | The Treasure of San Miguel |
Resources:
db#952
What are your thoughts?