PANICd.com the (Paranormal Activity Network Investigation Center Database) website was established to serve as an on-line resource for paranormal research and activity. Here you can find locations that have been reported and investigated all over the world; as well as, information pertaining to paranormal investigations.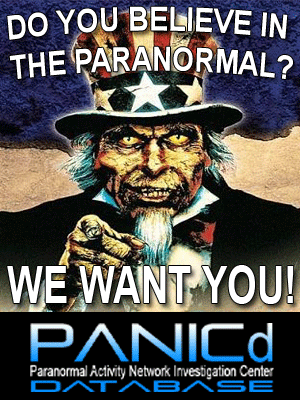 Our databases wouldn't be that great if we didn't include evidence that was collected during investigations at these locations. We have inluded a section for each location that would allow for any paranormal investigator or ghost hunter to submit their evidence.
We would love to here from you! Do you have a ghost story to share? Do you know of a location that should be added to our database? Do you have evidence that you want to submit for a location?

If you have answered "YES" to any of these questions, please connect to our submission page.