Ghost of Harry Houdini
Definition: Did Houdini make it back from the other side?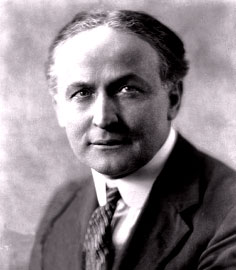 Houdini is best known as a magician and escape artist, of course, but at the height of his fame he was also drawn to Hollywood, where he made a handful of silent films from 1919 to 1923. With such titles as The Man from Beyond and Haldane of the Secret Service (which he also directed), the films were not regarded well enough to give him much of a Hollywood career. Houdini's interest in the occult was well known, and although he earned a reputation as a masterful debunker of seances, he earnestly sought contact with those who have passed on to the other side. Shortly before his death, Houdini made a pact with his wife Bess that if he could, he would return and make contact with her from the other side. Perhaps he truly has attempted to return. Some claim to have seen the ghost of the great Houdini walking around in the home he owned on Laurel Canyon Blvd. in the Hollywood Hills. Film historians Laurie Jacobson and Marc Wanamaker, in their book Hollywood Haunted, dispute this story, saying that "Houdini most likely never even set foot in the Laurel Canyon mansion he is said to haunt."
Collections:
Ghosts of Celebrities
Related Categories:
| Ghost of Grace Kelly | Ghost of Elvis Presley | Ghost of Marilyn Monroe | Ghost of Lucille Ball | Ghost of George Reeves | Ghost of Lon Chaney, Sr. | Ghost of Montgomery Clift | Ghost of Thelma Todd | Ghost of Clifton Webb | Ghost of Rudolph Valentino | Ghost of Ozzie Nelson | The Ghost of Kurt Cobain | Ghost of Orson Welles | Ghost of John Lennon | Ghost of Jim Morrison | Ghost of Farrah Fawcett | Ghost of Michael Jackson | Ghost of Thomas Ince | Ghost of Mary Pickford | | | Ghost of Bugsy Seigal | Ghost of Errol Flynn | Ghost of Mama Cass | Ghost of Freddie Mercury | Ghosts of Bonnie and Clyde | Ghost of Aaron Burr | Ghost of Al Capone | Ghost of Joan Crawford | Curse of James Dean | Ghost of Redd Foxx | Ghost of Benjamin Franklin | Ghost of Clark Gable | Ghost of Jesse James | Ghost of Liberace | Ghost of Carole Lombard | Ghost of Robert E. Lee | Ghost of Betsy Ross | Ghost of Mark Twain | Ghost of John Wayne | Ghost of Anna Nicole Smith | Ghost of Sharon Tate |
Resources:
db#696
What are your thoughts?