Ambrose Bierce Disappearance
Definition: The story of the mysterious disappearance of a journalist and author.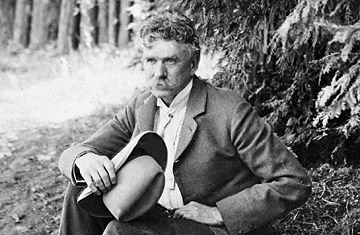 Best known for his short story "An Occurrence at Owl Creek Bridge," the journalist and author earned the nickname "Bitter Bierce" for his sarcastic, biting wit. ("Brain: an apparatus with which we think that we think.") The Civil War veteran also had a morbid fascination with horror and death, both of which became recurring themes in his writing. Bored with life in the U.S., he moved to Mexico in 1913 to witness Pancho Villa's revolution. He was 71. In a letter to his cousin Lora, Bierce didn't attempt to assuage his family's fear about such a trek, writing:
"Good-bye" if you hear of my being stood up against a Mexican stone wall and shot to rags please know that I think that a pretty good way to depart this life. It beats old age, disease, or falling down the cellar stars. To be a Gringo in Mexico "ah, that is euthanasia!"
Some scholars believe he was killed in the siege of Ojinaga in January 1914. Others speculate that Bierce's final letters were a ruse and that he never actually went to Mexico but instead committed suicide.
Collections:
Mysterious Disappearances
Related Categories:
| Wallenberg, Raoul | Miller, Glenn | Holt, Harold | Cooper, D.B. | Fawcett, Percy | Hoffa, Jimmy | Earhart, Amelia | Dare, Virginia | Romanov, Anastasia | Thompson, Jim | Le Prince, Louis | Crater, Joseph Force | | Gricar, Ray | Flight 19 Disappearance | Jackson, Martha | The Mysterious Cloud | The Stonehenge Disappearances | Parfitt, Owen | Spangler, Jean | Calico, Tara | Butler, Teresa | Bradley, Amy | Sagers, Annette | Anderson, Cynthia | Degree, Asha | Rahn, Laureen | Roberts, Leah | Augat, Diane | Little, Mary | Bathurst, Benjamin | USS Cyclops Disappearance | Scottish Lighthouse Keeps Disappearance | Valentich, Frederick | Vatican City Disappearances |
Resources:
db#651
What are your thoughts?