Benjamin Bathurst Disappearance
Definition: Brithish diplomat Benjamin Bathurst vanished into thin air in 1809.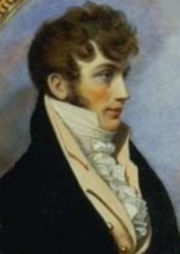 The case of Benjamin Bathurst is one of the most famous unexplained disappearances in history.
1809 was a turbulent time in Europe. Various countries were declaring war on each other, and travel between nations was extremely dangerous.
Bnajamin Bathurst, a British diplomat, was traveling through Berlin under the name 'Baron de Koch'.
He and his German courier, Herr Krause, arrived at the city of Perleberg on November 25.
Bathurst and his companion checked in at the White Swan Inn. There, they ordered an early dinner. After he had dined, Bathurst retired to a small room set aside for him at the inn, where he spent several hours writing correspondence and, strangely, burning pieces of paper in the room's fireplace.
Their departure had been delayed and it wasn't until 9 PM that they were told that their horses were harnessed to the chaise (a kind of horse-carriage) and ready to travel.
Bathurst was the first to leave the inn, with his attendant following close behind. Instead of entering the chaise from the side enarest to the inn, he went around the front of the horses to enter on the far side. His attendant followed him into the chaise the same way.
Upon getting in, the attendant noticed no sign of Bathurst in the chaise, nor was he anywhere near it. In a panic, the attendant gathered some local men to find him. After an hour of searching, they could not find any trace of Bathurst.
He was gone.
News of his disappearance did not reach England for several weeks, due to the lack of any form of fast communication and the chaotic state of Europe at the time. When word finally reached England, his wife Phillida immediately departed to Germany to search for her vanished spouse.
They arrived to find that Perleberg authorities were already looking into the affair and that on Captain von Klitzing was put in charge of the investigation.
On November 27, Bathurst's fur coat was discovered in an outhouse on a family farm. On December 16, two old women picking berries in the forest found the man's pants in a small clearing in Quitzow, one mile north of Perleberg.
Investigation eventually revealed that one Auguste Schmidt had worked in the courtyard of the White Swann Inn on the night of Bathurst's disappearance. He later confessed to have followed him with the intentions of robbing him, but no further evidence could be found implicating him for this crime.
In the March of the following year, Mrs. Bathurst searched Perleberg extensively with the help of a team of trained dogs, but to no avail.
To this day, the ultimate fate of Bejamin Bathurst is unknown.
Perhaps he was murdered, perhaps he was abducted, or perhaps something unnatural happened that night.
We may never know.
Collections:
Mysterious Disappearances
Related Categories:
| Wallenberg, Raoul | Miller, Glenn | Holt, Harold | Cooper, D.B. | Fawcett, Percy | Hoffa, Jimmy | Earhart, Amelia | Dare, Virginia | Bierce, Ambrose | Romanov, Anastasia | Thompson, Jim | Le Prince, Louis | Crater, Joseph Force | | Gricar, Ray | Flight 19 Disappearance | Jackson, Martha | The Mysterious Cloud | The Stonehenge Disappearances | Parfitt, Owen | Spangler, Jean | Calico, Tara | Butler, Teresa | Bradley, Amy | Sagers, Annette | Anderson, Cynthia | Degree, Asha | Rahn, Laureen | Roberts, Leah | Augat, Diane | Little, Mary | USS Cyclops Disappearance | Scottish Lighthouse Keeps Disappearance | Valentich, Frederick | Vatican City Disappearances |
Resources:
db#665
What are your thoughts?