Percy Fawcett
Definition: The story about the mysterious disapearance of a British archaeologist and explorer.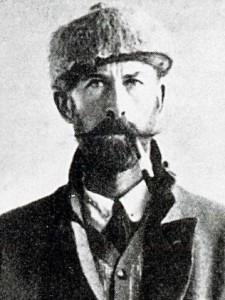 When British archaeologist and explorer, Percy Fawcett, together with his eldest son, Jack, and friend Raleigh Rimmell, set out for the jungles of Brazil in search for a hidden "city of gold," who could have imagined that something could possibly go wrong? They were never heard from again and their fate remains unknown to this day. Several unconfirmed sightings and many conflicting reports and theories explaining their disappearance followed, but despite the loss of over 100 lives in more than a dozen follow-up expeditions, and the recovery of some of Fawcett's belongings, their fate remains a mystery. Perhaps they ended up in a stew, or as shrunken heads on a witch doctor's fireplace mantle.
Collections:
Mysterious Disappearances
Related Categories:
| Wallenberg, Raoul | Miller, Glenn | Holt, Harold | Cooper, D.B. | Hoffa, Jimmy | Earhart, Amelia | Dare, Virginia | Bierce, Ambrose | Romanov, Anastasia | Thompson, Jim | Le Prince, Louis | Crater, Joseph Force | | Gricar, Ray | Flight 19 Disappearance | Jackson, Martha | The Mysterious Cloud | The Stonehenge Disappearances | Parfitt, Owen | Spangler, Jean | Calico, Tara | Butler, Teresa | Bradley, Amy | Sagers, Annette | Anderson, Cynthia | Degree, Asha | Rahn, Laureen | Roberts, Leah | Augat, Diane | Little, Mary | Bathurst, Benjamin | USS Cyclops Disappearance | Scottish Lighthouse Keeps Disappearance | Valentich, Frederick | Vatican City Disappearances |
Resources:
db#647
What are your thoughts?