Amelia Earhart
Definition: One of the most famous disappearances in history.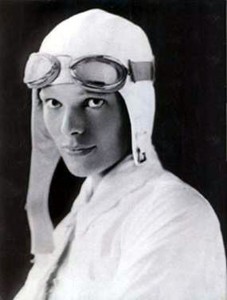 This is without a doubt the most famous disappearance in history. The fate of to the 39-year-old flyer and her navigator, Fred Noonan, remains a topic of speculation to this day. On one of the last legs of a circumnavigation of the globe, the pair left New Guinea en route to the tiny Howland Island, never to be seen or heard from again. The most likely explanation is they simply got lost and ran out of fuel, forcing them to ditch in the sea - most likely a fatal prospect in the heavy, two-engine Lockheed Electra they were flying. Conspiracy theorists have had a field day ever since, some claiming that she was captured by the Japanese when she flew too near the Marshal Islands on a secret spying mission for FDR. while others think she set down on some other deserted island and played Gilligan's Island with Fred for awhile. As late as 1970, there were those who claimed she was still alive, having somehow survived to make her way to America to live under an assumed name.
Collections:
Mysterious Disappearances
Related Categories:
| Wallenberg, Raoul | Miller, Glenn | Holt, Harold | Cooper, D.B. | Fawcett, Percy | Hoffa, Jimmy | Dare, Virginia | Bierce, Ambrose | Romanov, Anastasia | Thompson, Jim | Le Prince, Louis | Crater, Joseph Force | | Gricar, Ray | Flight 19 Disappearance | Jackson, Martha | The Mysterious Cloud | The Stonehenge Disappearances | Parfitt, Owen | Spangler, Jean | Calico, Tara | Butler, Teresa | Bradley, Amy | Sagers, Annette | Anderson, Cynthia | Degree, Asha | Rahn, Laureen | Roberts, Leah | Augat, Diane | Little, Mary | Bathurst, Benjamin | USS Cyclops Disappearance | Scottish Lighthouse Keeps Disappearance | Valentich, Frederick | Vatican City Disappearances |
Resources:
db#649
What are your thoughts?