Jim Thompson Disappearance
Definition: The disappearance of former CIA member and business man.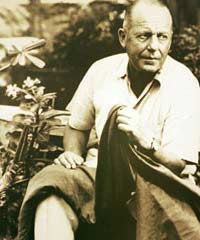 Jim Thompson, born March 21st , 1906 in Greenville, Delaware, was an American architect who helped revitalize Thailand's silk and textile industry in the 1950s and 1960s.
Thompson, previously a member of the CIA, disappeared mysteriously after going for an afternoon walk on Easter Sunday in Cameron Highlands on March 26th, 1967.
Jim Thompson was on a quiet sojourn to the highlands to visit some friends and the fact that he left his cigarettes and a small silver 'jungle box' on the chair outside Moonlight Cottage where he was staying suggests that he had not planned to be gone for long.
Thompson was never seen again, and the theories for his disappearance are many, some plausible and others complex and far-fetched.
Many believe that he was kidnapped for his previous involvement in spying activities. However it is more likely that he was eaten by a tiger, murdered in a botched robbery or fell into an aboriginal animal trap (a pit with a spike) and buried by the Orang Asli when they discovered what had happened. Many hypotheses have been put forward to explain Thompson's disappearance, and there were some reported sightings of him after his disappearance, but what happened to him still remains one of the greater unsolved mysteries of Southeast Asia.
Collections:
Mysterious Disappearances
Related Categories:
| Wallenberg, Raoul | Miller, Glenn | Holt, Harold | Cooper, D.B. | Fawcett, Percy | Hoffa, Jimmy | Earhart, Amelia | Dare, Virginia | Bierce, Ambrose | Romanov, Anastasia | Le Prince, Louis | Crater, Joseph Force | | Gricar, Ray | Flight 19 Disappearance | Jackson, Martha | The Mysterious Cloud | The Stonehenge Disappearances | Parfitt, Owen | Spangler, Jean | Calico, Tara | Butler, Teresa | Bradley, Amy | Sagers, Annette | Anderson, Cynthia | Degree, Asha | Rahn, Laureen | Roberts, Leah | Augat, Diane | Little, Mary | Bathurst, Benjamin | USS Cyclops Disappearance | Scottish Lighthouse Keeps Disappearance | Valentich, Frederick | Vatican City Disappearances |
Resources:
db#653
What are your thoughts?