Louise Le Prince Disappearance
Definition: Relatively unknown today, Louis Le Prince is the inventor officially recognized as the first person to record motion images on film, giving birth to today's motion picture industry.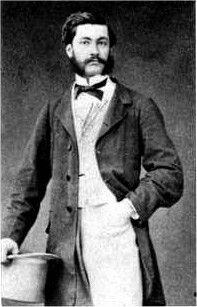 Born in Metz, France on August 28th, 1841 he was an inventor with a background in photography and chemistry. In 1881 Louis moved to America and began experimenting with moving picture machines. His breakthrough came on October 14th, 1888 when he managed to record a moving piece of film. Lasting only 2.11 seconds, the scene captures Adolphe Le Prince (Louis' son), Sarah Robinson Whitley (Louis' mother-in-law), Joseph Whitley and Harriet Hartley walking around in a garden. By today's standards it sounds like nothing exciting, but back then, who had seen such a thing before? Nobody. Several years before either Thomas Edison or the Lumi're brothers, Le Prince had been granted patents on both a 16-lens device and a single-lens type.
On September 16, 1890 Louis Le Prince disappeared never to be seen again. Le Prince had promised he would rejoin his friends in Paris for a return journey to England. However he failed to arrive at the appointed time and was never seen again by his family or friends. The last sighting of him was onboard a train leaving the Dijon platform. No luggage nor corpse was found in the Dijon-Paris express nor along the railway. Though both French police and Scotland Yard carried out an exhaustive search for his body and luggage, neither was ever found and the case remains unsolved today. Le Prince was officially declared dead in 1897.
There are 4 main theories about what could have happened to Louis Le Prince:
1. Suicide
Le Prince's brother's grandson told film historian Georges Potonni'e that Le Prince wanted to commit suicide because he was on the verge of bankruptcy. He had already arranged his suicide and he managed for his own body and belongings never to be found. However, Potonni'e noted that Le Prince's business was profitable and that he was proud of his inventions, and thus had no reason to commit suicide.
2. Assassinated for his creation
Christopher Rawlence pursues the assassination theory, along with other theories, and discusses the Le Prince family's suspicions of Edison over patents (the Equity 6928) in his 1990 book and documentary The Missing Reel. At the time that he vanished, Le Prince was about to patent his 1889 projector in the UK and then leave Europe for his scheduled New York official exhibition. His widow assumed foul play though no concrete evidence has ever emerged and Rawlence prefers the suicide theory. In 1898, Le Prince's elder son Adolphe, who had assisted his father in many of his experiments, was called as a witness for the American Mutoscope Company in their litigation with Edison [Equity 6928]. By citing Le Prince's achievements Mutuscope hoped to annul Edison's subsequent claims to have invented the moving picture camera. Le Prince's widow Lizzie and Adolphe hoped that this would gain recognition for Le Prince's achievement but when the case went against Mutoscope their hopes were dashed. Two years later Adolphe Le Prince was found dead while out duck shooting on Fire Island near New York.
3. Disappearance ordoned by the family
In 1966, Jacques Deslandes proposed a theory in Histoire compar'e du cin'ma, claiming that Le Prince voluntarily disappeared due to financial reasons (already shown to be false) and "familial conveniences". Journalist L'o Sauvage backed up that assertion, quoting a note shown to him by Pierre Gras, director of the Dijon municipal library, in 1977, that claimed Le Prince died in Chicago in 1898, having moved there at the family's request because he was homosexual. However there is no evidence to suggest that Le Prince was gay.
4. His brother killed him
In 1967, Jean Mitry proposed, in Histoire du cin'ma, that Le Prince was killed. Mitry notes that if Le Prince truly wanted to disappear, he could have done so at any time prior to that. Thus, most likely he never even boarded the train in Dijon. He also questions that if the brother, who was confirmed to be the last person to see Le Prince alive, knew Le Prince was suicidal, why didn't he try to stop him, and why didn't he report this to the police before it was too late?
A New Lead ?
A photograph of a drowning victim from 1890 resembling Le Prince was discovered in 2003 during research in the Paris police archives. Sadly no more information about the picture is available right now, but some people believe this is solid proof that Le Prince was murdered.
Collections:
Mysterious Disappearances
Related Categories:
| Wallenberg, Raoul | Miller, Glenn | Holt, Harold | Cooper, D.B. | Fawcett, Percy | Hoffa, Jimmy | Earhart, Amelia | Dare, Virginia | Bierce, Ambrose | Romanov, Anastasia | Thompson, Jim | Crater, Joseph Force | | Gricar, Ray | Flight 19 Disappearance | Jackson, Martha | The Mysterious Cloud | The Stonehenge Disappearances | Parfitt, Owen | Spangler, Jean | Calico, Tara | Butler, Teresa | Bradley, Amy | Sagers, Annette | Anderson, Cynthia | Degree, Asha | Rahn, Laureen | Roberts, Leah | Augat, Diane | Little, Mary | Bathurst, Benjamin | USS Cyclops Disappearance | Scottish Lighthouse Keeps Disappearance | Valentich, Frederick | Vatican City Disappearances |
Resources:
db#655
What are your thoughts?