Joseph Force Crater Disappearance
Definition: Joseph Force Crater (January 5, 1889 - disappeared August 6, 1930) was a 41-year-old New York City judge who vanished while out on a night on the town. He was last seen walking down West 45th Street, and entered popular culture of the 1930s as the "The Missingest Man in New York." Despite massive publicity, no trace of him was ever found, and nine years later he was legally presumed dead. The disappearance added to public disquiet about corruption in city government and was a factor in the downfall of the Tammany Hall political machine.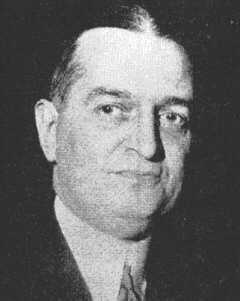 Crater was born on January 5, 1889 in Easton, Pennsylvania, the eldest of four children born to Frank Ellsworth Crater and the former Leila Virginia Montague. He was educated at Lafayette College (class of 1910) and Columbia University.
Crater's official title was Associate Justice of the New York Supreme Court for New York County, which is a trial court despite the designation "supreme." (New York's highest court is the New York Court of Appeals, whose members use the title of "Judge" instead of "Justice".) Bank records later revealed he withdrew $20,000 shortly before taking up the position in April 1930, at the relatively young age of 41 years old. This led to suspicions that a payment to Tammany Hall politicians had secured his appointment. While acting as official receiver in a bankruptcy, Crater sold a property at a tiny fraction of the $3 million the city paid to get it back shortly afterward. The huge profit generated in the transaction later caused speculation that he had been killed in a dispute over the money made on a corrupt scheme, although no evidence of corruption was ever found.
He issued two published opinions: Rotkowitz v. Sohn, involving fraudulent conveyances and mortgage foreclosure fraud, and Henderson v. Park Central Motors Service, dealing with a garage company's liability for an expensive car stolen and wrecked by an ex-convict.
In the summer of 1930, Judge Crater and his wife, Stella Mance Wheeler, were vacationing at their summer cabin in Belgrade, Maine. In late July, Crater received a telephone call. He offered no information to his wife about the content of the call, other than to say that he had to return to the city "to straighten those fellows out." The next day, he arrived at his 40 Fifth Avenue apartment, but instead of dealing with business, he made a trip to Atlantic City, New Jersey with his mistress, showgirl Sally Lou Ritzi (who used the stage name Ritz). He returned to Maine on August 1, and traveled back to New York on August 3. Before making this final trip, he promised his wife he would return by her birthday on August 9. Crater's wife stated that he was in good spirits and behaving normally when he departed for New York City. On the morning of August 6, Crater spent two hours going through his files in his courthouse chambers, reportedly destroying several documents. He then had his law clerk, Joseph Mara, cash two checks for him that amounted to US$5,150 (equivalent to about $71,967 in 2013 funds). At noon, he and Mara carried two locked briefcases to his apartment and he let Mara take the rest of the day off.
Later that evening, Crater went to a Broadway ticket agency and bought one seat for a comedy called Dancing Partner at the Belasco Theatre. He then went to Billy Haas's Chophouse at 332 West 45th Street, where he ate dinner with Ritzi and William Klein, a lawyer friend. Klein later told investigators that Crater was in a good mood that evening and gave no indication that anything was bothering him. The dinner ended a little after 9 pm, shortly after the curtain rose on the show for which Crater bought a ticket, and the small group went outside. Last known sighting
Crater's dinner companions entered a taxi outside the restaurant. Both later testified before a grand jury that they last saw Crater walking down the street. (This differs from the popular story that Crater entered a taxi and waved to his companions before speeding away.)
Collections:
Mysterious Disappearances
Related Categories:
| Wallenberg, Raoul | Miller, Glenn | Holt, Harold | Cooper, D.B. | Fawcett, Percy | Hoffa, Jimmy | Earhart, Amelia | Dare, Virginia | Bierce, Ambrose | Romanov, Anastasia | Thompson, Jim | Le Prince, Louis | | Gricar, Ray | Flight 19 Disappearance | Jackson, Martha | The Mysterious Cloud | The Stonehenge Disappearances | Parfitt, Owen | Spangler, Jean | Calico, Tara | Butler, Teresa | Bradley, Amy | Sagers, Annette | Anderson, Cynthia | Degree, Asha | Rahn, Laureen | Roberts, Leah | Augat, Diane | Little, Mary | Bathurst, Benjamin | USS Cyclops Disappearance | Scottish Lighthouse Keeps Disappearance | Valentich, Frederick | Vatican City Disappearances |
Resources:
db#656
What are your thoughts?