Vatican City Disappearances
Definition: A mystery within Vatican City.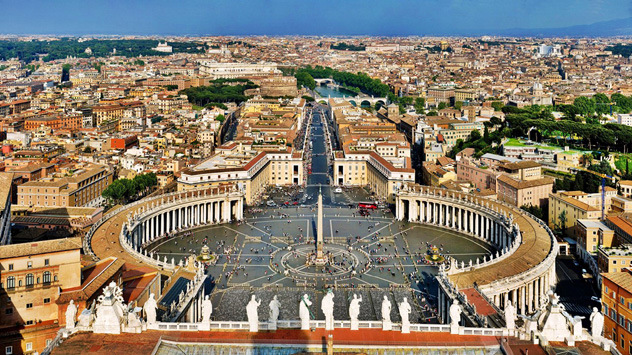 We tend to think of Vatican City, with its ornate basilicas and sacred traditions, as the kind of place where evil could never exist. But in 1983, something sinister roamed the Holy See. Emanuela Orlandi was a 15-year-old sophomore in high school, the daughter of a Vatican bank employee. On June 22, 1983, Emanuela told her sister she had been approached by an Avon representative with an offer to sell cosmetics. She never made it home from school that day.
Teenagers are a flighty sort, and many run away from home every day. Often they're merely couch surfing with friends, or off on a romantic jaunt with a girlfriend or boyfriend. They tend to reappear some time later, perhaps a little skinnier and more world-weary, but in good health. But a series of bizarre phone calls to the Orlandi home in the wake of Emanuela's disappearance set off alarm bells. There were calls from multiple people including those with Italian, American, and Middle Eastern accents, each seeming to indicate the girl had been kidnapped by Muslim extremists as a pawn in an attempt to secure the release of Mehmet Ali Agca, a Turkish assassin who shot Pope John Paul II in 1981.
Other theories have been advanced, including extortion attempts against the Vatican Bank. Last year, Father Gabriele Amorth, who served as the Vatican's chief exorcist during the reign of John Paul II, alleged that Emanuela had been taken by the Vatican police to be used as a sex slave for parties. Amorth has proven a controversial figure over the years, advancing crackpot ideas including the notion that the Harry Potter books are evil. But his theory on this case perhaps holds the most water. Another girl, 15-year-old Mirella Gregori, also vanished from Vatican City, just 40 days before Emanuela. Thirty years later, no trace of the teenagers has ever been found.
Collections:
Mysterious Disappearances
Related Categories:
| Wallenberg, Raoul | Miller, Glenn | Holt, Harold | Cooper, D.B. | Fawcett, Percy | Hoffa, Jimmy | Earhart, Amelia | Dare, Virginia | Bierce, Ambrose | Romanov, Anastasia | Thompson, Jim | Le Prince, Louis | Crater, Joseph Force | | Gricar, Ray | Flight 19 Disappearance | Jackson, Martha | The Mysterious Cloud | The Stonehenge Disappearances | Parfitt, Owen | Spangler, Jean | Calico, Tara | Butler, Teresa | Bradley, Amy | Sagers, Annette | Anderson, Cynthia | Degree, Asha | Rahn, Laureen | Roberts, Leah | Augat, Diane | Little, Mary | Bathurst, Benjamin | USS Cyclops Disappearance | Scottish Lighthouse Keeps Disappearance | Valentich, Frederick |
Resources:
db#614
What are your thoughts?