D.B. Cooper
Definition: The story of the mysterious disappearance of D.B. Cooper.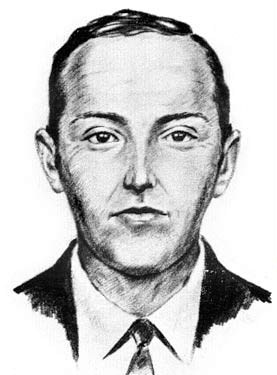 In what many consider one of the most bizarre events in aviation and criminal history, a man calling himself D.B. Cooper skyjacked a Boeing 727 over Washington State and, after collecting a ransom of $200,000 from authorities, jumped from the rear stairs of the plane from an altitude of 10,000 - feet, never to be seen again. This is made-to-order stuff for conspiracy buffs, who came up with all sorts of scenarios - not to mention alleged suspects - about who the mysterious man was and what became of him. The mystery appeared destined to remain unsolved until a boy playing on the banks of the Columbia River in 1980 found a stack of decaying bills later confirmed to have been part of Cooper's ransom, suggesting that the man probably didn't survive the plunge after all. It was only a small part of the ransom (about $5,000), allowing the faithful to ask what became of the rest of it - and of the man who almost got away with the perfect crime.
Collections:
Mysterious Disappearances
Related Categories:
| Wallenberg, Raoul | Miller, Glenn | Holt, Harold | Fawcett, Percy | Hoffa, Jimmy | Earhart, Amelia | Dare, Virginia | Bierce, Ambrose | Romanov, Anastasia | Thompson, Jim | Le Prince, Louis | Crater, Joseph Force | | Gricar, Ray | Flight 19 Disappearance | Jackson, Martha | The Mysterious Cloud | The Stonehenge Disappearances | Parfitt, Owen | Spangler, Jean | Calico, Tara | Butler, Teresa | Bradley, Amy | Sagers, Annette | Anderson, Cynthia | Degree, Asha | Rahn, Laureen | Roberts, Leah | Augat, Diane | Little, Mary | Bathurst, Benjamin | USS Cyclops Disappearance | Scottish Lighthouse Keeps Disappearance | Valentich, Frederick | Vatican City Disappearances |
Resources:
db#646
What are your thoughts?